Hello, I'm Darin Gregory and I'm a physician at Moreland OB-GYN and today I wanted to talk to you a little bit about respiratory viruses such as Coronavirus, also known as COVID-19, as well as Influenza. It's cold and flu season and we're getting a lot of calls about different symptoms that patients have as well as a lot of questions about the new Coronavirus that people are hearing about in the news. We'll start with Coronavirus since that's a hot topic right now.
Please note that this video was recorded in early March 2020. Information about the emerging new coronavirus (COVID-19) is rapidly changing and updating on a daily basis. Therefore information, such as the Corona virus case numbers, in the video below is quickly outdated. If you are interested in the most recent number of COVID-19 cases and deaths, please visit the CDC's website to learn more.
For other information about Coronavirus symptoms and prevention as well as influenza preventive measures, watch this video or read below:
What Is the Coronavirus?
Coronavirus is a new virus that has emerged in mainland China and is spreading through the population there. It's affected over 100,000 people that we're aware of at this point and there have been numerous deaths associated with this new Coronavirus. The virus has reached the U.S., and the confirmed number of cases changes daily. There is currently no vaccine to prevent coronavirus disease 2019 (COVID-19). The best way to prevent illness is to avoid being exposed to this virus.
Coronavirus Symptoms
The biggest symptoms that we are watching for as we continue to keep track of it are what we call lower respiratory symptoms, pneumonia-like symptoms, cough, shortness of breath; these are the big symptoms that you should look for. The other thing that is required to raise our awareness is if you've had recent contact with someone who's traveled back from mainland China. Again, that's the area where we see this virus circulating.
Coronavirus Prevention
There is currently no vaccine to prevent coronavirus disease 2019 (COVID-19). The best way to prevent illness is to avoid being exposed to this virus. However, as a reminder, CDC always recommends everyday preventive actions to help prevent the spread of respiratory diseases, including:
Avoid close contact with people who are sick.
Avoid touching your eyes, nose, and mouth.
Stay home when you are sick.
Cover your cough or sneeze with a tissue, then throw the tissue in the trash.
Clean and disinfect frequently touched objects and surfaces using a regular household cleaning spray or wipe.
Follow CDC's recommendations for using a face masks.

CDC does not recommend that people who are well wear a face mask to protect themselves from respiratory diseases, including COVID-19.
Face masks should be used by people who show symptoms of COVID-19 to help prevent the spread of the disease to others. The use of face masks is also crucial for health workers and people who are taking care of someone in close settings (at home or in a health care facility).

Wash your hands often with soap and water for at least 20 seconds, especially after going to the bathroom; before eating; and after blowing your nose, coughing, or sneezing.

If soap and water are not readily available, use an alcohol-based hand sanitizer with at least 60% alcohol. Always wash hands with soap and water if hands are visibly dirty.
Coronavirus Statistics Are Always Changing
This is changing continually, the CDC is updating its recommendations almost on a daily basis as more information comes in and details emerge about this. The biggest thing we're telling patients right now is to monitor your travel plans. Again, check the city's CDC website, they update recommendations daily. Right now the only travel restriction we're seeing is travel to mainland China but that may change over time. So if you are going to be traveling keep a close eye on those updates.
Coronavirus and Pregnancy
The other big question we get is about pregnancy such as, "what specific factors should we take into account for pregnancy." Right now we don't have any specific information regarding pregnant women because again, like everything else, it will probably develop over time but right now we just don't have that information. There isn't a vaccine for this and the treatment for it is just supportive care. It's mainly for patients that have pre-existing conditions such as diabetes or lung disease. Those patients are often hospitalized because they need more advanced care.
Again, this information is coming out on almost a daily basis so we will be updating you as soon as it comes out to us and if you have questions we encourage you to reach out to your OB-GYN specifically if you're concerned about your pregnancy.
Influenza: The Silent Threat
What I would actually like to talk to you more about is a much more important virus that's going around right now. In the U.S. alone, it's already infected about 34 million people, there have been about 350,000 people hospitalized from it and there have actually been almost 20,000 deaths from influenza virus in this year alone in the U.S. It's an important topic that we talk to all patients about and it's important for you to take steps to prevent you and your family from contracting it.
Influenza Symptoms & Risk Factors (Such as Pregnancy)
The influenza virus usually presents with symptoms of fever, cough, headache, body aches. Those are the big symptoms that most patients will call when they get this. So who is the biggest risk for influenza? It's the elderly, the very young, people with pre-existing health conditions and the most important one for us at Moreland OB-GYN: pregnancy.
Pregnancy is a unique situation from a healthcare standpoint since the body doesn't handle viruses the way it does when you're not pregnant. Pregnant women are at significant risk for hospitalization, for needing to be admitted into the ICU, and unfortunately, pregnant women are one of the groups that die from influenza. That's why we feel it's so important to take every precaution to prevent you from getting it.
Preventive Measures for Influenza
The biggest single act that you can do to prevent yourself from getting influenza is to get the vaccine. I know it's not perfect, it doesn't prevent every case of influenza, however, this year our vaccine is about 60% effective. That's a 60% reduction in having a serious medical condition; so that's why we want you to have it. Antiviral medications are an important adjunct to flu vaccine in the control of influenza. Almost all (>99%) of the influenza viruses tested this season are susceptible to the four FDA-approved influenza antiviral medications recommended for use in the U.S. this season.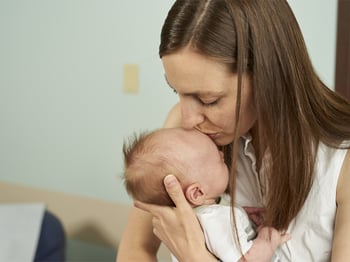 Here's what else you should know about the Influenza vaccine:
The vaccine is perfectly safe.
You cannot get the flu from the virus.
The vaccine is just virus protein.
It has been studied for decades.
It doesn't cause miscarriages.
It doesn't cause autism.
It doesn't cause anything untoward to happen to your pregnancy or to your baby.
The vaccine generally is recommended to be given at the start of the flu season in October. That's the best time to get it but that doesn't mean you shouldn't get it at any time. Flu
season for the U.S. runs through about May so if you have not had the vaccine and it's before May, you should still be getting it, because there's still some protective immunity to that.
Babies get the flu from the people that love them the most. So it's important for everybody in the family to get their vaccine.
Likewise, if you're going to be taking your new baby home, anybody in your home should also be vaccinated if they can be. That goes for people who will be caring for your new baby. If grandma and grandpa are going to be watching your new grandson or granddaughter they should have a flu vaccine too.
Post Exposure Prophylaxis (PEP)
One final topic about influenza is what we call post-exposure prophylaxis. If you're a pregnant patient and you have direct exposure to somebody with influenza or who you highly suspect has influenza, it is recommended that you get treated right away to prevent you from getting it. So if you have that family member or another close contact that is diagnosed with the flu, please call us and we'll talk to you about taking preventative medication to keep you healthy and keep you from getting the flu.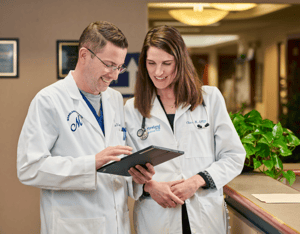 How Moreland OB-GYN Can Help
If you have questions or if you have concerns for any reason, call us. At Moreland, we like to talk to our patients, we feel that that's the best, closest and most personal connection and the best way to keep you and your family happy and healthy. So if you have any questions, call us.
Our nurses are happy to talk with you. If there's any concern that needs to be addressed they will contact your physician and we will get you taken care of. Another good resource is our website. There will be information in there about influenza as well as links out to other sites that provide a lot of information such as the CDC and ACOG. Again, feel free to call us. We're here and we're happy to help.