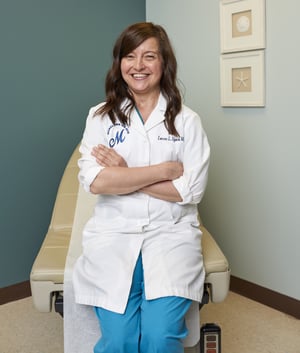 Whether you've just decided to start a family or you're in the early weeks of pregnancy, you likely have a lot of questions. Finding the right obstetrician to meet your unique needs, and to help you through each and every pregnancy milestone, can be challenging. But there are some key qualities the best obstetricians share.
Take a look as we walk through some of the most important qualities you should look for as you select an obstetrician near you.
1. Obstetricians Who Offer A Team Approach With One Doctor At the Helm
Being pregnant, especially for the first time, can be overwhelming; there's a lot of information to remember and you likely have a lot of questions. Knowing you have a team of medical professionals working to help you through your entire pregnancy can be reassuring amongst all of the uncertainty. A team approach to prenatal care, with all hands on deck, ensures that you have support through every pregnancy milestone.
At Moreland OB-GYN, the doctors are part of an association. This means that your doctor is your primary point of care, but they will also communicate directly and often to their physician partners. You will see your primary doctor at every appointment and your doctor will personally manage your care. This will allow you to build a great relationship with your physician and provides you with the opportunity to make a pregnancy and birth plan together. As part of the association, if needed, another physician or medical team member can step in to assist and know the details of your pregnancy care plan.
2. Access to Wisconsin's Best Birthing Centers
As you research to select the best obstetrician near you, it's important to ask yourself "what kind of birthing experience do I want?" Most people spend a considerable amount of time finding the right doctor, but finding the right hospital or birth center should merit equal attention. Birthing centers and hospitals vary greatly, from traditional birthing rooms to sprawling suites with Jacuzzi tubs and spa-like decor. Do your research and find the right one for your unique needs. But keep in mind, if you or baby have any health complications, or if you are deemed a high-risk pregnancy, your doctor may require you to deliver in a specific hospital with access to specialized care.
Birthing centers have a lot to offer moms-to-be, and the one you select can make a difference in your birthing experience. For example:
Waukesha Memorial Hospital offers the only Level 3 NICU in Waukesha County, which means your baby will be in the best possible care if he or she needs a little extra attention after birth. It also offers 24/7 anesthesia access, which means you don't have to wait for an on-call doctor to help with pain management and 24/7 in-house obstetricians, even on nights and weekends. This means, you'll always have a Moreland OB-GYN physician at the hospital and you'll never have to wait for an on-call doctor to arrive.
Oconomowoc Memorial Hospital offers a convenient location and a Number 2 Certified Nursery, which means it can also provide extra attention and care to babies who may need additional attention.
Looking for more helpful information? Download your pregnancy planning kit.
3. Obstetricians Should Help Your Build a Birthing Plan for Your Unique Needs
Childbirth is different for everyone, whether you are a new mom or if this is your second, third or fourth pregnancy. Creating a birth plan is essential for a comfortable and smooth delivery. Your birth plan is how you communicate to your doctor and medical team your wishes during labor and delivery.
You have the right to make decisions when it comes to your care and your delivery, especially if you decide to take a more natural approach to delivery. Your doctor should encourage you to talk about your ideal birthing plan. Many tools and amenities are available to laboring moms. Be sure to ask your doctor a lot of questions, there may be approaches you are unfamiliar with that could be beneficial to your unique needs.
Two example of these tools are:
Birthing balls, which are used by some women during pregnancy and delivery to help ease pelvic pain. Sitting, bouncing and swaying from side to side on a ball can help shift and align the pelvis and improve comfort during contractions.
Squatting bars aren't just for the gym anymore! A bar can be attached to your hospital bed, or placed next to it, to allow you to assume a squatting position during delivery. A squatting position is thought to widen the pelvic opening, help with pain relief and use gravity to help baby come more quickly.
4. Obstetricians Need Experience and Expertise with High-Risk Pregnancies
Having a high-risk pregnancy means it's possible that either you or your baby could have health problems either during pregnancy, during birth or after the delivery. Factors to consider are your age, existing medical conditions or if you've had high-risk pregnancies in the past. These are scary questions to ask, but having a doctor who specializes in helping high-risk patients can put your mind at ease knowing that you are in experienced and capable hands.
Moreland OB-GYN physicians have cared for many physicians with high-risk pregnancies. They also work closely with perinatologists (obstetricians who specialize in high-risk pregnancies) and other specialists as needed, to ensure you have the best possible care before, during and after delivery.
We've got even more fact and information for you! Download your pregnancy planning kit now!
5. High Level Obstetric Services For Every Step of Pregnancy
The best obstetricians have a team of experienced medical professionals and specialty services to help all types of patients. This includes access to infertility expertise and ultrasound, a surprisingly often overlooked pregnancy service that top obstetricians value immensely.
Help with Fertility Uncertainty
It's important to have doctors that specialize in every step of pregnancy, this includes the steps that occur before pregnancy even happens. If you have a history of infertility if you are 35 and younger with regular periods trying for 12 months unsuccessfully or over the age of 35 with regular periods and trying for 6 months or more unsuccessfully talk to your obstetrician about special services to meet your needs such as:
Lab work and timing studies
Medication to promote ovulation
Semen Analysis
Intrauterine insemination
The possibility of infertility can be scary, but rest assured that there are medical options available to both women and men. Talk to your doctor to get additional information about what may be available to you.
Obstetricians Should Understand the Importance of Ultrasound
Ultrasound technologists, or sonographers, require certification to complete their job, but only a handful are accredited by the American Institute of Ultrasound in Medicine (AIUM).
What does this mean for you? Finding a clinic that offers AIUM accredited sonographers means you have a team with the highest standards of care and service. Accredited sonographers are required to take more images and to regularly submit their images for peer review to ensure accuracy.
This may not seem like a big deal now, but when you see your little baby for the first time, you're going to want an accurate image and the right person walking you through the anatomy of your little one. Believe it or not, only a handful of local clinics invest in AIUM certification and specialized ultrasound equipment. Is your clinic one of them? Moreland OB-GYN is one of only a few area clinics that holds this certification.
Putting Your Pregnancy Needs Front And Center
Your obstetrician should be there for you from planning to the postpartum period. They need to be someone you like and trust. With the help and support of your physician and medical team, you can make the transition into parenthood with confidence.
Regardless of your primary care doctor or health system, keep in mind that you control your own care, and in many cases, you have the option to choose your healthcare provider and delivery location.
At Moreland OB-GYN, we specialize in women's health care and prioritizing the needs of our patients. We hope you'll connect with us to help answer your questions and we hope you'll turn to our experts as a trusted resource for information.
What are you waiting for?! Download your pregnancy planning kit, now!