Congratulations, you are pregnant! The upcoming months will be such a special time in your life. In addition to the joy that you are feeling in anticipation of your new baby, there can also be the stress of being prepared with everything you could possibly need for your child. And the options can be overwhelming—backpack or satchel diaper bag, regular or jogging stroller, visual or audio baby monitor, the list goes on.
We have compiled information from our Moreland Moms Private Facebook Group (join us!) and top internet sources to share the most recommended baby gear with you. Please know that what works for one mom, may not work as well for you and that is okay. The baby's and your own comfort are the highest priorities.
Strollers
When it comes to strollers, you need to know what you will be using it for most. Are you a first-time mom looking for something that works with a car seat, a mom of multiples looking to hold more than one kid, or are you looking for something to handle more rugged terrain? Don't worry, there are options for all of these.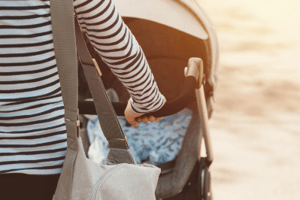 Our research has shown that for an everyday stroller and car seat combo, the Chicco Bravo Trio Travel System and the Graco Modes ClickConnect top the list.
If you are in need of a double stroller, Graco DuoGlider Click Connect, Joovy Qool, and City Select Lux come highly recommended.
For a stroller that can handle grass, gravel, and rougher terrain with ease, Bob, Thule, and Graco brands make great models.
Car Seats
If you choose to go with a stroller that includes a travel system, you may already have this item covered as we shared above. If not, you will want to research what styles work best for your size vehicle. If your car seat needs a base, make sure to get one for any additional vehicles that your baby may be traveling in. Many people want a car seat to grow with their child to not incur additional expenses for new seats.
Suggestions from our Moreland Moms include Diono (it's narrow), Graco SlimFit, Graco Extend2Fit, Chicco Keyfit30 (fits Chicco strollers).
Breast Pumps
Most moms that breastfeed will need a pump to express milk in between feedings. Think about how and when you plan to use it before you purchase. There are rechargeable, battery backup, wearable, and manual options. Some insurance companies provide pumps to moms—be sure to check before making a purchase.
The Spectra S1 Plus comes highly recommended by our Moms as a great option to take with you on the go. It is rechargeable and effective at expression.
The Medela Pump In Style comes in a bag for easy transport and has a battery backup.
Willow is a wearable hands-free pump that you can wear under your clothing.
If you are looking to express manually, the Medela Harmony® Breast Pump or Haakaa can be your answer.
Don't forget to purchase a cooler to store the milk that you have expressed until you can get it home. This one comes highly recommended if you have a place at your job to store it.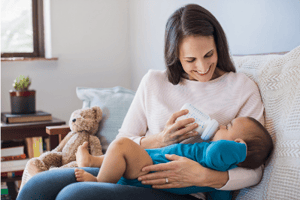 Bottles
Whether you decide to feed your child breastmilk or formula, you will need bottles, and again, there are a lot of options. Just as with many other things, bottles evolve and include anti-colic options and venting. Finding the right bottle may take some trial and error.
Top recommended brands include Dr. Browns, Playtex (specifically the drop ins), Philips Avent, and MAM.
Monitors
Baby monitors provide you assurance that your baby is comfortable when you aren't able to be in the same room. Advances in technology allow monitors to see in the dark, provide two-way communication, track breathing, heart rate, and oxygen levels, and provide reporting via a smart device app. Some parents prefer seeing their child, others want to just hear the child, and some use both types of monitors.
If you are looking for a basic sound monitor, the V-Tech audio monitors fulfill that need.
If you are looking for video and more options, our Moms recommend Owlet, Snuza, and Miku. Wyze and Nest security cameras also come recommended though they do not have as many baby features.
Diaper Bags
If you plan to go anywhere with your child, a diaper bag is a necessity—it is when you aren't prepared with one that the worst outcomes happen. There are a lot of style options to consider, but one thing is consistent with diaper bags, plenty of storage spots. Backpacks give you the option to have both hands free, but the bag isn't accessible without taking it off. Messenger bags can give you access, but can get heavy on one shoulder. There are compact purses- and fanny pack-styles for just the basic needs when you don't want to bring a lot.
Our Moms agree with the internet top choices and recommend Ju-Ju Be B.F.F. Diaper Bag and Skip Hop Backpacks.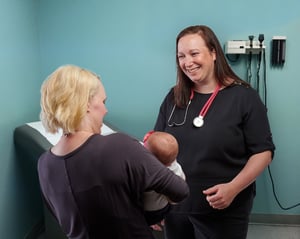 Doctors
And the best gear of all is a great doctor for both your baby and you. Ask friends and family for recommendations on pediatricians and check they are in your insurance network. And don't forget about care for yourself. The fourth trimester (12 weeks following birth) can be filled with changes to your body and your emotions. Moreland OB-GYN is here to provide you care and answer questions about your health while you navigate being a new mom.
Content in this blog is for information purposes only. It should not be used as official or professional advice. It should not be read as legitimate, official advice from an expert professional. This blog contains opinions from staff and members of the Moreland Moms Facebook group which is not endorsed by any company. These opinions do not reflect the views of the physicians and corporation of Moreland OB-GYN. This content is not an official statement of Moreland OB-GYN Associates S.C..