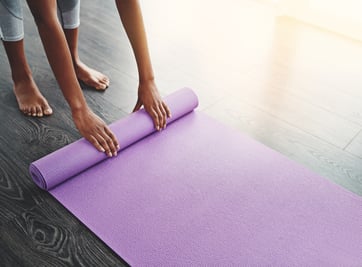 Experiencing painful menstrual cramps can leave you desperate for a solution. Doing something physical, such as yoga, may feel like the last thing you want to do.
However, some yoga positions are so effective at relieving menstrual pain that once you attempt them, they will probably become a part of your pain management routine!
The providers at Moreland OB-GYN encourage patients to give yoga a try. Exercise, in general, is a great way to ease the pain caused by your period—and yoga is one of the best options!
Let's Talk About Yoga for Menstrual Cramps
Using yoga for menstrual cramps is an effective pain-relief strategy.
First, think about the areas of your body that typically experience pain from cramping—your belly, pelvis, hips, and lower back. These areas can be targeted for pain relief through certain yoga poses.
Additionally, the emotional symptoms of PMS and menstruation can also be reduced by yoga, so it can do more than treat period pain.
There are several different schools of yoga out there, and countless poses and adaptations. It can be a little overwhelming to start from scratch! Whether you have a significant amount of yoga experience or none at all, we want you to be able to use yoga to treat your menstrual cramps.
Here are a few specific yoga poses for menstrual cramps. We encourage you to give these a try!
5 Yoga Poses to Help With Menstrual Cramps
Yoga Position # 1: Adapted Child's Pose
Child's pose is one of the most familiar yoga poses, even to less experienced practitioners or those who are quite new to yoga practice. This pose targets menstrual pain that is found primarily in the back.
For child's pose, start with your knees on the floor. We call this an "adapted" child's pose because you may want to widen your knees farther apart than you typically would for this pose to aid in pain relief.
Fold forward, extend your arms, and bend down as far as you can comfortably go. If possible lean your forehead on the mat in front of you for five slow, diaphragmatic breaths, or breaths using your belly rather than your chest. You can also turn your head from one side to the other, slowly, counting five breaths before turning to the other side.
You're going to want to relax your hips and slowly stretch those lower back muscles.

Yoga Position # 2: Cat-Cow
Cat-cow is a two-part pose that will target not just the back but also your abdominal muscles.
Start with the cow pose. On your hands and knees, check to make sure your hands are aligned under your shoulders. Your knees should be aligned under your hips. Gently stretch your head upwards, gazing towards the sky as you breathe in. At the same time, raise your tailbone towards the sky and drop your belly towards the ground.
Now it is time to move to the cat pose. Breathe normally for a few breaths. Then, after a deep inhalation, breathe out slowly and curl your back. Your head and your tailbone will stretch towards the ground. The gentle arch of your spine will warm your back muscles as well as stretch and tone your abdominals.
Exhale on the cat pose and inhale on the cow. Repeat 5 to 20 times to help relieve your pain.

Yoga Position # 3: Reclining Twist
Your lower back and lower belly will both benefit from the reclining twist position.
First, lie flat on your back. Bend your left knee, and then lower it to the right side. Look to your left, and reach your arms out wide, your palms flat against the ground. You will want to stay here for five or more breaths.
Extend your left leg back to the ground, and repeat the pose with your right leg bending to the right. This pose should relax your back, hips, and shoulders. Repeat 5 to 10 times on each side.
Yoga position # 4: Pigeon Pose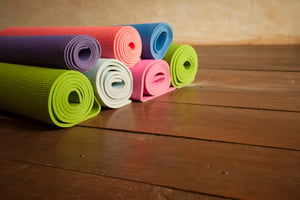 The pigeon pose will help your hips feel more relaxed as they carry the stress of menstrual cramps. The pigeon pose will help stretch and relieve the pain felt in your hips.
First, position yourself in the upright sitting position. Bend your right knee, and extend your left leg behind you. Arch your back as you place your hands on your hips. A more intense stretch can be achieved if you reach your arms over your head and bring your hands together.
Position yourself on all fours. Bring your right knee forward towards your right wrist, and extend your right ankle so it is in line with your left hip. Slowly slide your leg back. For balance and depending on your flexibility, you may need to keep your hands positioned on the ground.
As your leg extends back, you will feel the stretching of your left hip and you may also feel stretching along your right side, but it shouldn't be painful. If it is painful, you may need to modify the pose.
Hold this pose for several breaths before returning to the center and repeating the pose with your right leg outstretched behind you and your left knee bent. Repeat 5 to 10 times.
Yoga position # 5: Corpse Pose
This pose is a frequent ending pose for yoga courses, and it can be especially useful in the practice of mindfulness to overcome menstrual pain. This one is less about stretching your body and more about relaxing or focusing your mind.
Corpse pose is also called Savasana. Lie flat on your back, and rest the palms of your hands facing up. Slowly relax your body, starting with the top of your head, then your neck, your shoulders, your spine, your arms and hands, your thighs, your calves, your ankles, and finally your feet.
Meditative breathing will help you focus on something other than period pain. Corpse pose is the best time to practice your diaphragmatic breathing (or belly breathing). Take long, deep, and controlled breaths and avoid quick, shallow breathing.
When to Talk to Your Provider About Your Menstrual Cramps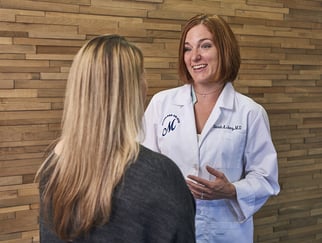 Sometimes it can feel like nothing helps your painful period symptoms. You may have tried yoga, special diets, pain medication, massage, and more without success. You may need to be evaluated for a condition like PCOS, endometriosis, or other conditions that cause painful periods.
You should talk to your doctor about period cramps if your pain is interfering with your ability to lead the life you want, if you have a diagnosis for a condition that is not currently controlled with medication or other treatments, or if you want to learn about more options for controlling your period pain.
How Moreland OB-GYN Can Help
If you suffer from chronic menstrual cramps, difficult or irregular periods, heavier-than-normal bleeding, or periods that are interfering with your life, we are here to help.
Our providers are ready to listen, understand, and provide expert care.
At Moreland OB-GYN Associates, we are dedicated to the needs of our patients. We promote overall excellence in women's healthcare. Our compassionate providers understand the difficulties that our patients face in their daily health, whether it is unexplainable pain or unusual menstrual symptoms.
Learn more about the doctors at Moreland OB-GYN, who offer treatment for painful periods in Waukesha, Oconomowoc, Milwaukee, and the surrounding areas.
For more information, here are a few resources to check out:
Nationwide Children's hospitals offer advice on additional yoga poses that can help target pain caused by menstrual cramps.
A writer for PopSugar explains that the emotional symptoms of PMS and menstruation can also be reduced by yoga, so yoga does more than just treat period pain.