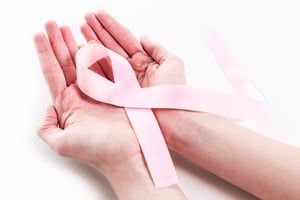 Did you know? The guidelines for breast self-examinations have changed.

The standard advice from medical professionals for years stated that self-checks saved lives by catching cancer early. But new science is challenging this prevailing wisdom, leaving many women confused and concerned about what to do, and women have the right to worry.
According to the CDC, Breast cancer remains the most common form of non-skin-related cancer in women and one of the leading causes of women's cancer deaths.
Moreland OB-GYN wants you to take the appropriate precautions without undue worry. Read on for a breakdown of the most up-to-date breast-cancer screening guidelines.
Why Was the Breast-Exam Protocol Changed?
For the last several years, breast-cancer experts have rolled out a series of new recommendations, not just for self-checks, but also for screening tests like mammograms. Counter-intuitively, perhaps, they call for what seems like less vigilance — but in actuality, the new guidelines are just more focused on your age, current health, and health history.

Why?

Guidelines have continued to evolve since the 1980s to keep pace with growing research, better knowledge, and improving mammogram technology. Most recently, according to the Mayo Clinic, changes in recommendations have arisen out of concern for the many "false positive" biopsies resulting from self-checks.

Bottom line, "it's time to re-think self-breast exams," says the American Cancer Society (ACS):

"Research has not shown a clear benefit of regular physical breast exams done by either a health professional (clinical breast exams) or by yourself (breast self-exams). There is very little evidence that these tests help find breast cancer early when women also get screening mammograms. Most often when breast cancer is detected because of symptoms (such as a lump), a woman discovers the symptom during usual activities such as bathing or dressing."
What Are the New Breast Exam Guidelines?
The new breast exam guidelines depend on your age.
Mammogram guidelines 2019
Ages 40-44: It's up to you whether or not to have a mammogram every year.
Ages 45-54: Get a mammogram every year.
Ages 55-plus: Step down to a mammogram every two years, or stick with the annual schedule, it's up to you.
Self-check guidelines 2019
As already stated, you can stop. "Evidence does not show that regular breast self-exams help reduce deaths from breast cancer," says the ACS.
Know what's normal for your breasts so you notice if suddenly something is NOT looking or feeling normal and you can schedule a time to see your doctor.


Please note these guidelines are for the woman of average breast-cancer risk, meaning:
Women who do not have a personal history of breast cancer or a strong family history of breast cancer;
Women who do not have a genetic mutation known to increase the risk of breast cancer;
And women who have not had chest radiation therapy before the age of 30.
Women at high-risk should get breast-cancer screenings earlier and more often, in addition to MRI tests in some cases. Your doctor can tell you what category you fall into and what set of guidelines you should follow.
When to Talk to a Doctor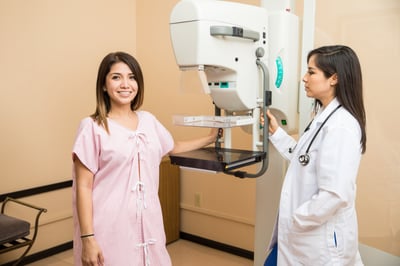 If you see something out of the ordinary for you, say something to your OB-GYN doctor.
Breast cancer can manifest with many different symptoms, so awareness of your own body is key. Possible symptoms of breast cancer can include:
Swelling of all or part of a breast (even if no lump is felt)
Skin dimpling
Breast or nipple pain
Nipple retraction (turning inward)
Nipple or breast skin that is red, dry, flaking or thickened
Nipple discharge (other than breast milk)
Swollen lymph nodes
Don't be shy about getting a doctor involved. The healthcare providers of Moreland OB-GYN welcome all your questions and concerns. We want you to be well and worry-free.
Remember, no set of guidelines is perfect, and no screening is guaranteed. But by staying up-to-date with the latest information and keeping in touch with your OB-GYN doctor, you can have peace of mind that you have done everything you can for a healthy future.
Moreland OB-GYN Associates, S.C. is dedicated to the needs of our patients. At Moreland OB-GYN, we promote overall excellence in women's health care. Our compassionate providers understand the difficulties that women face in their daily health, and we are here to listen and provide expert care.
For more information about breast self-examinations, request an appointment with Moreland OB-GYN.