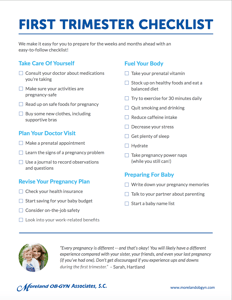 Having a baby changes your life (for the better!) and many of those life changes will start well before baby arrives. For many people, these changes can seem overwhelming, but with a little organization and preparation things will seem a lot more manageable. Use our easy to follow first trimester checklist to help you navigate the first few weeks of pregnancy or to learn what to expect when you get pregnant in the future.
Download and print your First Trimester Checklist now!
Every pregnancy is different, and that's okay! Whether this is your first pregnancy or fifth, following these steps will start your pregnancy off on the right foot.
Taking Care Of Yourself In The First Trimester
Consult your doctor about medications you're taking
Make sure your activities are pregnancy-safe
Read up on safe foods for pregnancy
Buy some new clothes, including supportive bras
Planning Your Doctor Visits During The First Trimester
Make a prenatal appointment
Learn the signs of a pregnancy problem
Use a journal to record observations and questions
Revise Your Pregnancy Plan
Check your health insurance
Start saving for your baby budget
Consider on-the-job safety
Look into your work-related benefits
Fueling Your Body In The First Trimester
Take your prenatal vitamin
Stock up on healthy foods and eat a balanced diet
Try to exercise for 30 minutes daily
Quit smoking and drinking
Reduce caffeine intake
Decrease your stress
Get plenty of sleep
Hydrate
Take pregnancy power naps (while you still can!)
Preparing For Baby
Write down your pregnancy memories
Talk to your partner about parenting
Start a baby name list
You can get a downloadable version of the checklist here!
Preparing for baby can be a lot to handle, but with the right help and resources you can stay informed and put your mind at ease. Still have a lot of questions? Download your free pregnancy planning kit now to get your questions answered and your pregnancy planning on track.
At Moreland OB-GYN, we specialize in women's health care and prioritizing the needs of our patients. We hope you'll connect with us to help answer your questions and we hope you'll turn to our experts as a trusted resource for information.