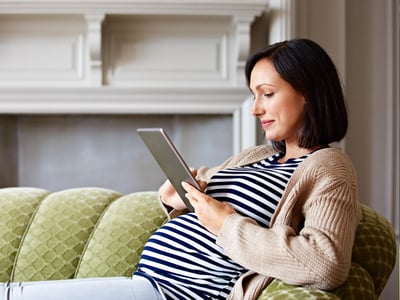 Choosing the right hospital for your delivery can take a lot of thought, research and time, but don't let it overwhelm you. In fact, there are some very simple facts and considerations that you can use to evaluate your hospital choices and make the right decision for your growing family.
To make things even easier on you, our team at Moreland OB-GYN has created an easy-to-follow guide to help you find the best hospital fit for your delivery. Once you've found the right hospital for your needs, you'll be able to focus on all the fun aspects of being an expecting parent!
Start by Finding the Best Obstetrician Near You
Every pregnancy is unique. As such, it's important that you find the right team of doctors and nurses. You'll be spending a lot of time with your obstetric team, so finding a clinic that welcomes you and makes you feel comfortable will help make the transition into parenthood much easier. Together, you will learn all about baby, make decisions to promote proper growth and development, and build a birthing plan around your needs. Your obstetrician and their team of providers are an integral part of the pregnancy process and you should take the time to find the right clinic for you.
Once you have selected the right obstetrician in your area, take a look at where they have hospital privileges, which means, where they are able to deliver babies. Selecting a hospital based on the physician of your choice is a great idea, and likely, you'll end up at a birthing hospital near you!
Maximize Your Birth Experience By Researching Birthing Hospitals
These days, hospitals and birthing centers have many available luxuries and amenities. Before you begin your research on the right hospital for delivery, it's important to ask yourself "What kind of birthing experience am I looking for?"

If you are not sure where to start, your obstetrician is a great resource. They are familiar with different birthing approaches and can help you find the best fit for your needs. Your doctor should also encourage you to talk about your ideal birthing plan. Many tools and amenities are available to laboring moms, you just have to know to ask.
If you are deemed high-risk or there are any complications with baby, you may need to deliver your baby at a specific hospital of your doctor's choosing that can take care of both you and your baby. Many such hospitals are equipped with specially nurses who are trained to handle higher risk moms and babies. Your doctor will review all of this information with you well in advance, so you will be ready when labor begins.
Consider the Hospital and NICU Rating Before Delivery
If you're stuck between a few different locations, look for ratings or patient reviews online. Things like awards or achievements can help show you which facilities have gone above and beyond to care for their patients.

ProHealth Oconomowoc Memorial and Waukesha Memorial Hospital have been appointed Blue Distinction Centers for maternity care. This title is given to medical facilities that demonstrate superior overall quality in specific procedures in comparison to local counterparts.
NICU Ratings
We all hope that our baby arrives in perfect health, but there is a possibility that baby, even if deemed healthy, may need to visit the neonatal intensive care unit at your hospital.

A neonatal intensive care unit (NICU) consists of technology and professionals specifically trained to care for newborns who need a little extra help adjusting to life outside of the womb. It's not uncommon for babies to need specialized care after delivery. It's a weight off your shoulders to know that your hospital or birthing center has an equipped NICU. Waukesha memorial is the only level 3 NICU in Waukesha county.
Research the Delivery Details That Matter for Your Pregnancy
You have an obstetrician you trust and you've picked a hospital you think might be the one, now it's time to get into the nitty gritty. With so so many big questions to think about, the little questions can often get overlooked.

For example, ask about the nurse to patient ratio at your hospital and about access to lactation consultants. This will help determine the kind of support you will receive from the staff, and the number of other patients may have an effect on room availability. It's also wise to learn the policies of your hospital or birthing center. Things like visiting hours or whether or not the father can stay overnight will have a major impact on your overall experience.

If you're not sure what to ask, do a mental walkthrough of how you expect the labor and delivery process to go. Note all of the small details you are uncertain about and be sure to talk with your doctor if you have any outstanding questions.
Get A Second Opinion on Birth Centers From The Moms In Your Life
How many people do you know with kids? Probably a lot. Ask them to share their labor and delivery experience with you. Good or bad, they likely have a lot of great advice. When in doubt, find someone you trust and get a second opinion.
As you look around online, you'll notice that there are no shortages of Facebook communities and Mom Groups. These resources present a great opportunity for you to ask questions and gain helpful insight.
Join the 600+ local moms who've connected with Moreland Moms Facebook Group now!
While the process of finding the right hospital may take some time, the end result is worth it. Having a well trained support system of doctors and nurses in an environment of your choosing will make your delivery so much easier on you and your baby.
Whether you've just decided to start a family or you're in the early weeks of pregnancy, you likely have a lot of questions. We're here to help.
Looking for more helpful information? Download your pregnancy planning kit, now!
At Moreland OB-GYN, we specialize in women's health care and prioritizing the needs of our patients. We hope you'll connect with us to help answer your questions and we hope you'll turn to our experts as a trusted resource for information.