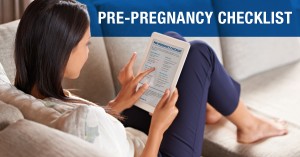 You've decided you want to start a family, what's next?! There are simple steps you can take now to give yourself a head-start for a healthy pregnancy. Getting pregnant isn't always easy, but there are few things you can do to give your body and your pregnancy planning a boost!
Our team of doctors at Moreland OB-GYN compiled the ultimate pre-pregnancy checklist below to help you get started on your path to a successful, healthy pregnancy.
Download this checklist as a PDF now.
Make A (Preliminary) Pregnancy Plan
Read up on conception and ovulation basics

Figure out when you're ovulating

Evaluate your health insurance and plan a baby budget

Get Excited!!
If you are looking for more specific information about conception, check out our blog 3 Natural Fertility Options to Help You Get Pregnant.
Take Care Of Yourself Before You Get Pregnant
Visit the dentist

Review current medications

Get immunized

Quit smoking and heavy drinking

Reduce caffeine intake
For more in depth explanations take a look through our Prenatal Care Guide and our Smoking, Alcohol, Drugs, Caffeine, and Other Hazards article.
Download this checklist as a PDF now.
Fuel Your Body For Pregnancy
Take prenatal vitamins with folic acid

Stock up on healthy foods and eat a balanced diet

Start exercising or reduce extreme exercising

Decrease your stress

Get plenty of sleep
For more resources on this subject check out our iron rich food guide and What You Need to Know About Fish and Pregnancy.
Find the Right Obstetrician
Review potential doctor profiles

Schedule a preconception checkup

Make a list of preconception checkup questions

Talk to your doctor about genetic testing
Not sure what to look for in an obstetrician? Take a look at 5 Key Qualities the Best Obstetricians Share.
Download this checklist as a PDF now.
Preparing for baby can be a lot to handle, but with the right help and resources you can stay informed and put your mind at ease. Still have a lot of questions? Download your free pregnancy planning kit now to get your questions answered and your pregnancy planning on track.
At Moreland OB-GYN, we specialize in women's health care and prioritizing the needs of our patients. We hope you'll connect with us to help answer your questions and we hope you'll turn to our experts as a trusted resource for information.

Looking for more helpful information? Download your pregnancy planning kit, now by clicking the image below.